Celebrities from Around the World Join the Glitzy Launch.
Dubai's first Atlantis hotel opened to great excitement in November 2008, featuring an extravagant $5 million fireworks display, celebrities in attendance from all over the globe, and a concert by pop sensation Kylie Minogue.
Fourteen years after its predecessor, Atlantis The Royal opened this weekend with similar grandeur. Beyoncé returned with a grand performance on the opening day, marking her first concert in four years, and the sky above Palm Jumeirah's iconic tree-shaped island was illuminated with fireworks. The new resort is located just a short walk from the original hotel.
Dubai Department of Economy and Tourism and Kerzner International hope that the opening of the ultra-luxurious hotel, which cost around $1.5 bn to construct, will not mark the peak of the emirate's prosperity. Dubai has been thriving since the pandemic outbreak, being seen as a safe haven and relatively insulated from the geopolitical and economic instability in other parts of the world.
The hotel, what appears to be interlocking Lego-like blocks, features 44 suites equipped with private infinity pools, an infinity pool on the 22nd floor, a fire-breathing fountain display, gourmet restaurants run by celebrity chefs, and the world's largest jellyfish aquarium. The 231 luxurious residences within the building have already been sold.
Staying in one of the hotel rooms will cost an average of $1,000 per night. The hotel also offers over 100 exclusive suites, with the most expensive suite priced at $100,000 per night.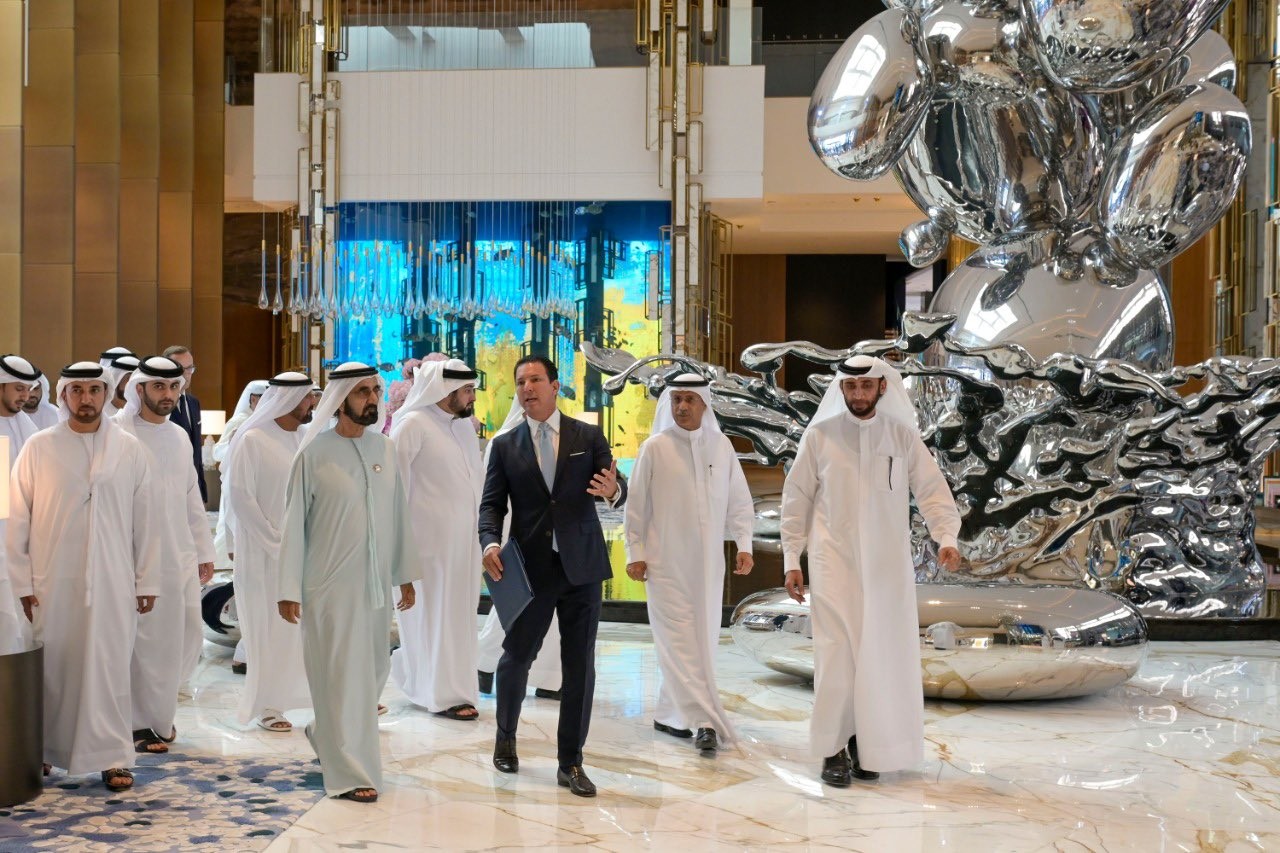 To celebrate the grand preview of Atlantis The Royal this weekend, HH Sheikh Mohammed Bin Rashid Al Maktoum, Vice President and Ruler of Dubai, shared pictures of his tour of the hotel on Twitter. In a tweet accompanying the pictures, Sheikh Mohammed expressed his pride in the UAE's ongoing development, referring to Atlantis The Royal as an "architectural masterpiece that will boost the tourism sector" and emphasizing the country's thriving hospitality industry. He added, "We are proud of our achievements and continue to develop our economy.
Covering an area of over 40 hectares, Atlantis The Royal is an impressive 500 meters in length and extends upwards to 43 storeys and 178 meters. It boasts an abundance of hospitality venues and an impressive 90 swimming pools.
Despite the current global economic uncertainty, Dubai has continued to thrive and grow. The grand opening of Atlantis The Royal by Atlantis Resorts is a testament to this. As certified realtors, Real Estate Masters can help you find the perfect investment properties in this booming market. With a stable economy and a growing tourism sector, Dubai is the ideal destination to invest in. Take advantage of the opportunity to be a part of this exciting development.